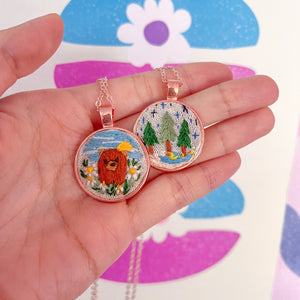 Embroidered Necklace Workshop (Upon Request)
About this workshop:
Make your own embroidered necklace with any design of your choice! All materials provided!
What you will learn in this workshop:
- Embroidery techniques
- How to prepare the fabric for the necklace frame
- Finishing up
Materials provided:
(For participants to take home)
1 x Necklace + Embroidery Pendant
Craft Difficulty Level: Beginner (suitable for ages 12 & beyond)
Workshop Date/Time: Choose your own preferred date/time! DM us to discuss & confirm :)
Duration: 2.5 hours
Location: Stamford Arts Centre (155 Waterloo St, #01-05) Singapore 187962
* Please note that workshop fees are not refundable and not exchangeable into store credits for purchase of products.
* Should there be any request for change of dates due to unforeseen circumstances after the workshop fee has been paid, feel free to email us! We will arrange another date for you! :)