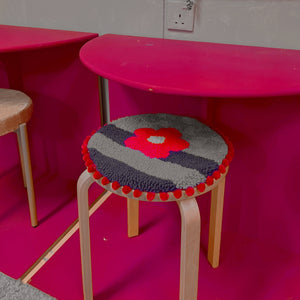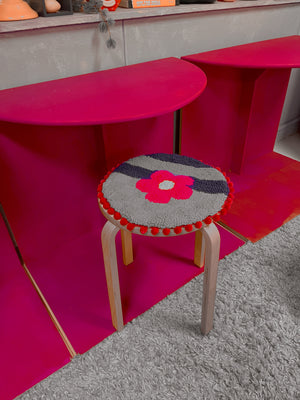 Tufted Stool Workshop (Upon Request)
About this workshop:
Tufting is an ancient textile technique, now modernised and aided by a tufting gun to create rugs, headboards and ottomans speedily! This workshop rides on the tufting trend and will teach you how to use the tufting gun to create your desired design using yarns!
You can tuft out any design of your choice! The end product will be a fluffy Tufted Ikea Stool! (yes, ikea wooden stool included) During the workshop, you will learn how to finish your tufted cover and fix it onto the Ikea Stool which you get to bring home on the same day!
What you will learn in this workshop:
- Tufting Techniques using the Tufting Gun
- Using the punch needle to touch up
Materials provided during workshop use only:
Monk's Cloth
Tufting Gun
Yarns (Range of 40-50 colours)
Shearing Tools
End Product: A tufted Ikea Stool of your own creation!
Craft Difficulty Level: Beginner
Workshop Date/Time: Any date/time upon your request! Email us to book a slot!
Duration: 4 hours  (Additional tufting hours will be charged at $5/px per hour)
Location: Stamford Arts Centre (155 Waterloo St, #01-05) Singapore 187962
* Please note that workshop fees are not refundable and not exchangeable into store credits for purchase of products.
* Should there be any request for change of dates due to unforeseen circumstances after the workshop fee has been paid, feel free to email us! We will arrange another date for you! :)