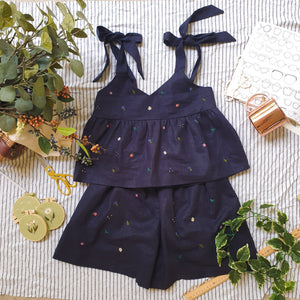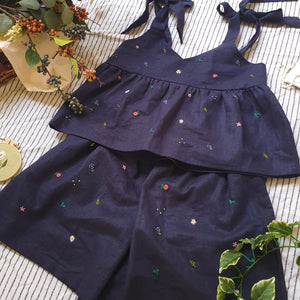 Mini Flora 2-Piece Linen Set
 This 2-Piece Linen Set comes with a self-tie ribbon top and shorts with an elasticated waistband + pockets! The entire set has been lined with cotton voile for extra comfort. The mini florals are embroidered on the front only.
Our garments are made in small batches and made well for both You & Earth! So, do give us 4-6 weeks to sew up and embroider your order. We will take heart in creating your garment, we promise.
Sizing
XS: Bust 30 inches, Elastic Waist 24 inches pre-stretch / 34 inches max-stretch, Shorts Length 15.5 inches
S: Bust 32 inches, Elastic Waist 26 inches pre-stretch / 36 inches max-stretch, Shorts Length 16 inches
M: Bust 34 inches, Elastic Waist 28 inches pre-stretch / 38 inches max-stretch, Shorts Length 16.5 inches
L: Bust 36 inches, Elastic Waist 30 inches pre-stretch / 40 inches max-stretch, Shorts Length 17 inches
Custom: Do email us your bust & waist measurements and preferred length.
**Sizes are available for girls between 2-6 Y/O. Email us to order!
"a sustainability state of mind.."

 
We can't turn that much of a tide, but we wanna start small and start now to provide our community with sustainable clothing choices that would really help Earth. And, with this in mind, let us make clothes for you too..
You would know by now that helping Earth means zero-waste. With that, please feel free to send your garments back to us should you have fallen out of love/size with it. For a small fee, we can turn your garments into smaller bags, accessories or masks for you. If you bought our garments secondhand, this gesture extends to you as well.
Should there be stains on your garments after a weekend food haul, we can work some embroidery magic on it to prolong its life.
Whatever it is, please don't throw our (love) garments away! We can always talk it out :)
Love, Cheryl
By the way..
the fabrics used are eco-friendly linen / deadstock fabric sourced locally
the seamstress sewing up this range is local homemaker, Abby
while the hand embroidery are done up by Cheryl