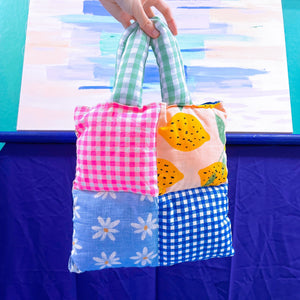 Huff & Puff Bag (Donate Your Textile)
How Project Huff & Puff Works:
Step 1: Donate 1-4 pieces of unwanted garments/textile and drop it off at my Chinatown Studio! 
*strictly no underwear pls!
*stained/spoilt textiles are acceptable
*pls help make sure the donated items are washed first 
Step 2: We will use your donated textile to create the puffy bag of your choice. Your donated textile will directly reflect the aesthetic of your puffy bag!
:)
Item is made upon receiving your Textile Donation and sewn in Singapore! Give us about 4-5 weeks to sew it up!
Front & Back have the same set of fabric squares/design.
Dimensions: 32 (W) x 32cm (H)
Handle Height: 10cm
Material: Scrap Fabrics of Cotton/Linen/Polyester
Stuffing: Scrap Yarns and Polyester Stuffing