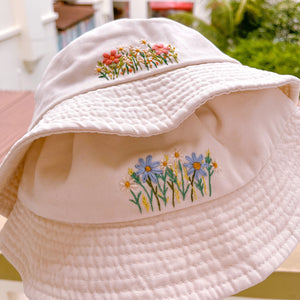 Embroidered Hat Craft Session
About this workshop:
This embroidery class will teach you how to embroider a floral design on a Bucket Hat!
Bucket Hat is provided for you! *You can also bring your own*
(Hat is free-size and reversible. Comes in Black or Beige)
What you will learn in this workshop:
- 3 Different types of embroidery techniques to complete the provided floral pattern
Materials provided (participants can take home):
Embroidery Needle
Embroidery Threads
Bucket Hat x 1 (Black/Beige)
Craft Difficulty Level: Beginner
Workshop Date/Time: DM me to book your own preferred date/time!
Duration: 2 hours
Location: Stamford Arts Centre #01-05, S187962
* Please note that workshop fees are not refundable and not exchangeable into store credits for purchase of products.
* Should there be any request for change of dates due to unforeseen circumstances after the workshop fee has been paid, feel free to email us! We will arrange another date for you! :)