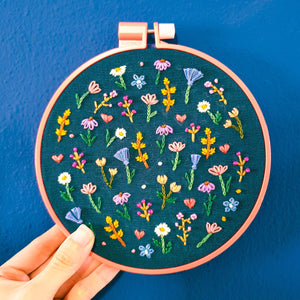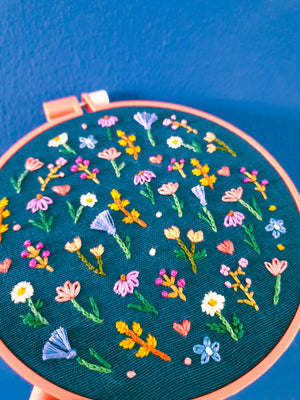 DIY Florallover Embroidery Kit
Learn to create this Allover Floral pattern with our All-in-One Embroidery Kit!
This embroidery pattern is designed to teach you 5 types of embroidery stitches, 5 types of florals/leaves and might take you about 5 hours to complete! :)
You will also get to learn how to create different types of interesting textures through the use of the embroidery techniques taught!
Items included:
1 Wooden Embroidery Hoop (15cm diameter)
1 Set of Embroidery Threads (10 colours in total)
1 Piece of Cut Navy Blue Linen Fabric
1 Embroidery Needle
1 Printed Allover Floral Paper Pattern
1 Carbon Paper (for transferring pattern onto fabric)
1 PDF Embroidery Manual (QR code link will be printed in the kit)
Project Completion: Takes about 4-5 hours!
Craft Difficulty Level: Beginner/Intermediate
Note:
Scissors will not be included
Thread colours provided may differ slightly in shade
Fabric and threads provided are adequate to complete 1 embroidered piece