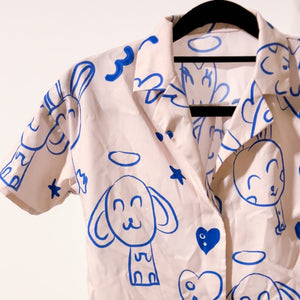 Custom Printed Apparel
Custom your own printed garments from your doodles!
 How it works:
Stage 1- Fabric Design
DM me on Instagram to show me your doodle stash and let me know your design/colour preferences
Digital sketch of the fabric print will be done and shown to you for 1-2 rounds of review
Final print artwork in pdf will be shown to you for approval before printing on fabric
Stage 2- Custom Apparel
Come by the studio to select your fabric option and decide on the apparel designs from our range of garments
The whole process from design to sewing will take 4-8 weeks
Once the garments are ready, you can self-collect or I can mail to you!
Fabric Choice:
Mainly plain cotton / cotton drill!
Garment Design Choices: 
Mens Short Sleeve Shirt, $99
Ladies Tops/Shirts, $79 onwards
Ladies Dresses/2-pc Sets/Kimono Outers, $99 onwards
Boys Short Sleeve Shirt, $59
Girls Tops/Shirts, $59 onwards
Girls Dresses/2-pc Sets, $79 onwards
*subtle colour differences is to be expected between digital image and actual fabric!*
*the garments are made to a standard XS-XL range whenever possible, but custom changes can be made to your fit/requests on studio visit day*
Liaising:
Please liaise via DM on Instagram cos there is alot of communication involved and email is abit slow 😭
Artwork:
If you would also like the final print artwork (in .ai and .pdf) to be given to you, an extra $30 is required! You are free to turn them into stickers, cards, etc 😎
Deposit:
A $100 deposit is payable to secure the custom apparel slot! A full amount will be calculated and payable after confirmation of type of apparel. Apparel pricing above includes design service, fabric+sewing cost!