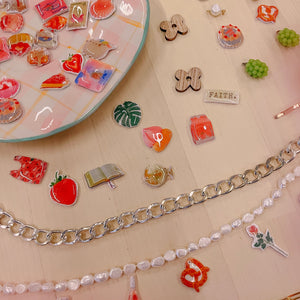 [Christmas Special] Charm Jewelry Craft Session
About this session:
A Christmas special! Make your own Charm Jewelry as a special treat for yourself! All Picture-Charms are made by us using special shrink-plastic and spans over a 100 varieties!

Wanna customize your Charms?
Yes! If you like us to create your own Custom Charms, you can send us 10 images of your choice beforehand and we will get them ready for you! Top-up of $15 to be paid on day of workshop.
End product:
1 x Necklace with 10 charms of your choice
OR
2 x pairs of Earrings with 10 charms of your choice
OR
2 x Bracelets with 10 charms of your choice
What you will learn in this workshop:
-Basic jewelry-making
Materials provided for participants:
Charms

Chains/Earring Sets
Pliers
Craft Difficulty Level: Medium (handling of small metal parts)
Workshop Date/Time: Book your own session by emailing me your preferred date/time! 
Duration: 2 hours
Location: Stamford Arts Centre (155 Waterloo St, #01-05) Singapore 187962
* Please note that session fees are not refundable and not exchangeable into store credits for purchase of products.
* Should there be any request for change of dates due to unforeseen circumstances after the session fee has been paid, feel free to email us! We will arrange another date for you! :)